Welcome to McHale Silverwares!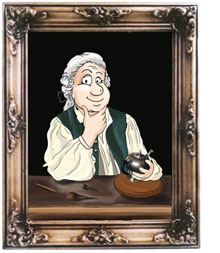 The West Coast's Largest Silverware's Dealer
Home to Antique, Obsolete and Modern silver from the four corners
of the world.
For almost 40 years—and now the largest Silverwares dealer on the West Coast—we have provided our friends, customers and museums with rare silver from individual spoons to magnificent services.
Our treasures span several centuries from an inventory that features the additional place setting you need for that special dinner party to the missing sugar bowl to finish your family's antique tea service.
ANTIQUE SILVER
The U.S. Customs service defines an antique as being at least 100 years old. We maintain a fine selection of pre-Georgian, Georgian and Victorian silver from England, Ireland & Scotland. Because we offer this fine silver in both flatware and hollowware, we employ the name, "Silverwares."
We have one of the largest selections of American "Coin Silver". This is American silver made prior to the Civil War that was created from melted New Spain and European coinage. Silver from the American Southern states is rare in that region because much did not survive the Civil War. It was either melted to finance the "Cause" or was carried off as War booty.
Continental Europe, Russia and Asia also form major components of our silver selection.
OBSOLETE SILVER

&

PATTERN MATCHING
Flatware pattern matching is a major part of our business. Many of the most collectable patterns have not been manufactured for years because the dies were lost, damaged or destroyed.
Even today's current patterns may have obsolete serving pieces or place pieces which have not been made for generations. The difference between "Old" Chantilly, Love Disarmed, Francis I and even Grande Baroque and the newer made pieces is like night and day.
Years ago each piece was carefully struck several times with hand cut and polished dies and then meticulously chased by an experienced silversmith. Today, the old dies are worn and with no silversmith to enhance the detail, the only alternative is the polishing wheel that wears down what is left of the design.
We specialize in original table wares that have been carefully preserved.
MODERN SILVER
From Art Deco to Post-Moderne design, the 20th Century has produced many fine craftsmen both in Europe and America. Their unique designs grace dinning tables the world over. Names like Jensen, Adler, Spratling, Ramsden, Hingleberg, Puiforcat and Buccellati are legend.
If you are looking for a single gift or an addition to your collection we are here to help. If we do not have it in stock we will search the world for you.
PHONE CALLS ARE WELCOME: 805.484-1291, OR, SEND US AN EMAIL